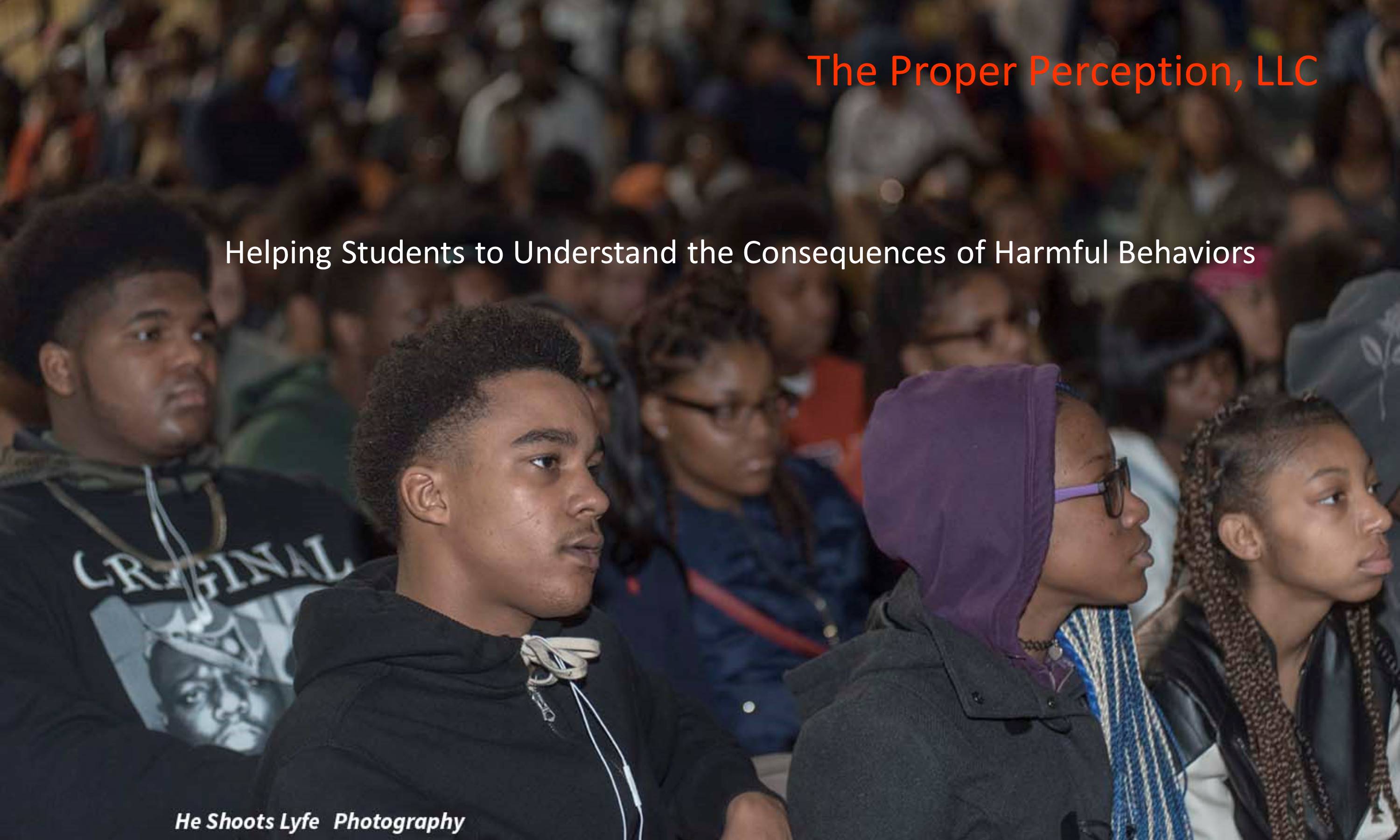 Comprehending Consequences Program

Comprehending Consequences
is a academic Social Emotional Learning (SEL) program designed to help our students internalize the behaviors that lead to prison. We use evidence-based methods to warn and educate young people of the consequences of where inviting harmful influences into their lives can and will lead them. The curriculum uses KWHL, Bloom's Taxonomy, vocabulary exercises, and has a Lexile Band of 1030.  The Program discusses important issues such as our education system, the American criminal justice system, peer pressure, decision-making and its consequences.  Our mission is to dismantle the school to prison pipeline by keeping as many of our youth as humanly from ever stepping foot inside a prison cell.  
The Program will motivate students to:
think critically about the issues

discussed

gain

self-awareness

build self-esteem, be able to achieve anything in

life

predict what the outcome of the reading will

be

express their own

feelings

identify/avoid negative

behaviors

improve decision

making

realize the influence of peer

pressure

accept obstacles as challenges to

overcome
Bio

Omar Yamini's childhood began on the south side of Chicago in 1976. When he was 12 years old in 1988 his parents bought a home and moved their family to, the first suburb south of Chicago. He was raised in a God fearing two parent household with five siblings, three of whom are college graduates. His younger brother serves as a sergeant in the United States Air Force. His other brother, who is 16 months younger in age from him, became a 9 time All-American in track and football, went on to play in the NFL and inducted into the University of Iowa's Hall of Fame. Mr. Yamini too received his B.A. in Sociology from the University of Illinois Chicago in 2014.
At age 20, after being raised by parents who did their job the right way, Omar invited harmful influences into his life, and as a result he went to prison for 15 years under the "Theory of Accountability".  The demoralizing experience affected his spirit and soul so deeply it compelled him to write his book; "What's Wrong With You!" (What You, Your Children, and Our Students Need To Know About My 15 Year Imprisonment From Age 20-35) in 2012. He wrote it so that our young people truly understand the mental and emotional devastation of prison and what will happen to any of us if we lose our dignity and decency and invite harmful influences into our lives.  His book and program are being utilized by schools nationwide.  With the support of his family, Omar founded "The Proper Perception, LLC" in the fall of 2012.
Testimonials
"Omar Yamini penetrated the hearts and minds of the young men who attended the Coalition of School's Educating Boys of Color (COSEBOC) Gathering of Leader's Conference in Memphis, Tennessee. His honest and detailed depiction of prison culture guided the 100 boys and young men through the horrific sights, sounds, tastes, smells and the toxic energy…

Kamau Ptah, Program Design and Facilitation Specialists for COSEBOC's Sankofa Passages Program, 2015

"I just want to start by saying Thank you for coming and sharing your story with the kids. I know you made a lot of them think. I have many students who bring up points you made during class in order to remind others of their actions. In my 13 years of teaching I do…

Amy Adkins, Speech Teacher at Thornridge High School, 2012

"Dear Omar Yamini, I have not read a text as compelling as yours since reading The Soledad Brothers, Street Soldiers, Convicted in the Womb, Die Nigger Die, Soul on Ice, and The Autobiography of Malcolm X. You have provided a modern-day signature with powerful kernels of insight. My only regret is not having read your…

Alfred W. Tatum, Ph.D., Dean, College of Education, University of Illinois at Chicago